Emergency Recovery Trolley for disable persons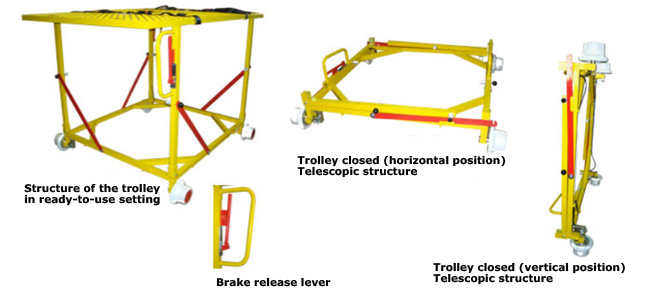 Functional characteristics
Emergency Recovery Trolley for disable travelers designed for underground services in entirely made with a light metal alloy. It is easy to assemble and use and can be used to carry up to two non-walking (disabled) persons at the same time. Four safety belts are provided to ensure the safety of disabled person during the journey. The trolley is equipped with a brake on the wheels which can only be released manually.
Weights and sizes
Weight of the supporting structure
kg 45
Upper floor weight
kg 40
Supporting structure size
mm 1550x1580x430
Upper floor size
mm 2000x1320x90
Trolley closed max size
mm 2000x1580x430
Open trolley max size
mm 2000x1580x1350
Package size
mm 2200x1900x450
Max load allowed
kg 200
Note: On request we may supply a container to store the trolley in the closed position. The container may be installed on the quay of the underground stations.